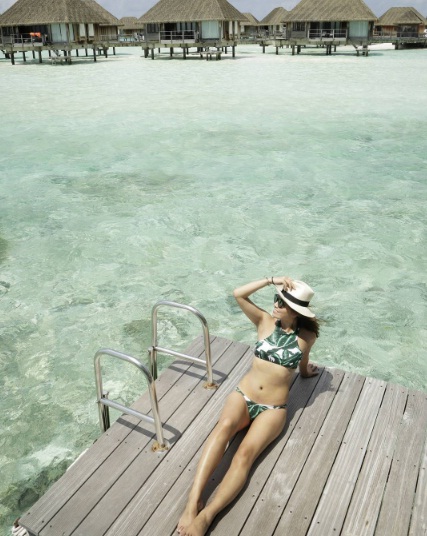 Originally published on Capital Lifestyle 
I fell in love with a suitor recently. The suitor was the pristine and clear waters of the Maldives – slowly at first and all at once at the same time.
Who doesn't love being in love; but being in love doesn't just put a sparkle in your eye or a skip to your step – being in love can lower stress, boost immunity and even fight disease. Scientists have found that women in happy marriages have lower risk of cardiovascular disease, married people live longer, and that ovarian cancer patients with a strong connection to others had more "natural killer" cell activity at the site of the tumor, just to name a few.
But I'm not talking about the type of love found in committed relationships and physical closeness with another individual; I'm referring to the love that one has for their surroundings and for themselves.
Bodies of water have always been thought to have transformative powers. We've all holidayed close to an ocean or lake before. It may be a challenge to unwind and decompress sometimes, especially when even on vacation, mobile gadgets seem to still find us. Apps, gadgets and responsibilities often continue to stimulate vacationers, even when they've made a conscious effort to "unplug." But unlike other destinations, the Maldives stimulate travelers in ways that surpasses other beaches.
Have You Swam In Water As Clear As Glass?
Known for its stunning beaches, incredible marine life and azure waters, Maldives is the definition of the tropical idyll. About 1,200 islands, separated into a series of coral atolls, will command your attention with shimmering crystal-clear waters that effortlessly draw you in.
Soothing sounds of rolling waves and endless horizons universally attract people seeking relaxation, calm and renewal. But with waters as clear as glass, a stay in the Maldives will easily inspire clarity and heighten one's awareness of their surroundings and emotions – what Wallace J. Nichols, a marine biologist, describes as a mild meditative state.
Nichols believes that we all have a "blue mind" and a mild meditative state is triggered when we're in or near water. Perhaps that's not so far-fetched, after all, life begins in the oceans and seventy percent of human bodies are made of saltwater – in fact, your brain is constantly bathed in saltwater.
Falling In Love in Maldives
Falling in love is always exhilarating. Your new love will often consume your energy, focus and time – and that's exactly what happened when I first laid my eyes on that water! Maldivian waters are so clear that people and boats seem to levitate in mid-air.
At a fairly constant water temperature of 26-29°C throughout the year, if you're a keen diver, there are more than 200 dive sites to explore and conditions generally are quite good. Even marine life seemed at their happiest with a beautiful glow. The abundance of marine life everywhere is truly amazing. I saw large parrot fish, sweetlips, reef sharks, manta rays, eels and even squid right at my water bungalow's doorstep. Thanks to the ocean currents that sweep through the myriad of island chains, nutrients are always on the move and so is the marine life that feed on them. The shallow lagoon waters are usually full of action.
Luxuriating on a one kilometer by 400 meter private island takes exclusivity and exotic retreats to another level. I stayed recently at the Club Med Kani Maldives Resort with the Our2Cents crew for our 100th episode celebration.
Another reason why it's so easy to fall in love with the Maldives? It's uncomplicated. A pre-arrival visa is not required and a 30-day free visa is issued on arrival for all Nationalities. It's also very easy to fly to. For example with Qatar Airways, travelers can connect through Doha directly to Male International Airport.
So what are you waiting for? Go swim in an ocean as clear as glass!
Big thank you to the Official Airline Sponsor Qatar Airways and Official Accommodation Partner Club Med SA of #Our2CentsInMaldives!